3 Affordable Ways To Improve Your Curb Appeal In Less Than A Day!

In this day and age it's getting tougher and tougher to get anything done on your home or property that will improve your curb appeal for less than a few thousand bucks.  Sadly, many homeowners are overlooking one of the simplest ways to make your home and property look better… By simply giving it a good thorough power washing, or in the case of your siding, a soft-washing.
It's amazing how much dirt, grime, tree sap, bird droppings, pollen and more will accumulate on the average home or driveway over the period of a year or two.  If no-one is cleaning the exterior of your home or property there is a big opportunity for a big improvement in appearance.
Here Are 3 Affordable Power or Soft Washing Projects For Your Charlotte NC Property
Soft Washing Your Siding
The siding on your home can get really dirty, to illustrate this, just go outside and run your fingertips along your siding, anywhere on the home.  You'll quickly see how visibly dirty the exterior of your home can get.  Dirt, dust, pollen, mold, mildew and more will build up on a home exterior and they end up really detracting from it's appearance.  Depending on the type of siding material, we can use a process called "soft washing" in which the exterior of your building is first treated with environmentally friendly and safe cleaning agents.  After the cleaning agents have done their work, we rinse them off with a low-pressure stream of water and a gentle scrub.
Homeowners are always amazed at the dramatic difference in the appearance of their home after a good soft wash and by keeping the organic material off your siding material, you'll keep it looking much better and slow down future accumulation.  The more often it's cleaned, the easier the job will be.
Types Of Siding We Can Safely Clean:
Vinyl
Hardi-plank
Stucco
Wood
Time To Complete:
Most averaged size house exteriors can be washed from top to bottom in a few hours with a one man that has experience and some specialized equipment making this one of those simple projects you can see immediate same-day results from.
Power Washing Driveways
Our driveways take more abuse than any other part of our property and they are visibly, usually the largest and most visible piece of hardscaping on any property.  If your driveway is lined with trees or shrubs, the organic debris (leaves, twigs, sap, pollen) falling and settling on the driveway will help contribute to moss and other organic growth and generally give the driveway a very dirty appearance.
Power washing a driveway with a proper surface cleaner and technique, leaves most driveways looking brand new again.  Years of dirt and grime build-up can be removed in a matter of a few hours. We know anyone can run a pressure washer, but it's worthwhile hiring a professional for this job, especially if you have intricate landscaping around your driveway such as flower beds and gardens that you don't want damaged by an amateur handyman as a pressure washer can do damage very quickly. Especially if they are using a wand to clean with instead of a surface cleaner.
Another reason to hire a professional power washing contractor would be if you have a interlocking brick or stone driveway.  Power washing without care can quickly remove the sand/mortar material that binds your driveway together and prevents the stones/bricks from moving and separating.  The installation of polymeric sand in these situations is a must, but it will raise the cost of your project.
Types Of Driveway Surfaces We Can Clean: 
Concrete
Asphalt
Brick or Stone
Time To Complete:
Most averaged size driveways can be power washed in just a few hours.  We've worked on much larger driveways on acreages and large estates that can take a day or even two with a small crew of 1 or 2 technicians and some specialized equipment.   If you have a large interlocking brick or stone driveway you must allow more time for the installation of the binding sand too. ( we do not offer sand replacement)
Power Washing Concrete Decks, Patios and Retaining Walls
Do you have lots of concrete or cement surfaces around your home?  A large pool deck or patio?  Maybe some cement walkways? What about a cement or rock retaining wall?  Cement, concrete and other stone/aggregate surfaces are affected by mold, mildew, lichen and other organic growth just like other surfaces around your home.  When concrete/cement becomes covered with organic growth, or is discolored from dirt and grime, it's time for a good power washing!
Types Of Concrete/Cement Surfaces We Can Clean:
Concrete pool decks
Concrete walk ways and patios
Stone pathways or walkways
Rock or concrete retaining walls
Time To Complete:
Most averaged size hardscapes can be power washed in just a few hours.  If you have a large surface area to be cleaned or a large interlocking brick or stone patio/pathways you must allow more time.
Why Choose Dave Macs Power Washing in Charlotte NC?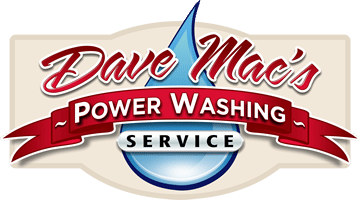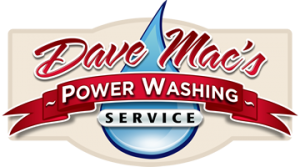 Dave Mac Power Washing is a full service power washing contractor that offers soft washing, low pressure washing, driveway cleaning and more.
Utilizing our own commercial-grade, self contained, pressure washing system we use special attachments called surface cleaners along with the appropriate (and environmentally friendly) detergents or degreasers to wash away years of dirt and grime from your driveway.
If you'd like an estimate to clean and power wash the exterior of your home or property located in Charlotte, NC please give us a call or fill out our contact form today and we'll schedule a date for your estimate.
You do not need to be present for the estimate we just need to take a quick square footage measurement and get a good look at the surfaces you want to be cleaned.