Low Pressure House Washing in Charlotte NC
House washing is something most homeowners don't even think about, but it's an excellent and affordable way to drastically improve your curb appeal and quickly too!  Often it doesn't take long for the exterior of a home to get dirty.  In just a few short years mold, mildew, bird droppings, rust stains, soot, pollen and dust can all build up to unsightly levels.
If your house is in the shade of large trees you'll be battling with algae and mildew.  If your house is in the sun it's going to be dust, dirt, and pollens building up.  House washing can quickly remove all of this dirt and grime.
Dave Mac's Power Washing is a top rated power washing company based out of Charlotte, North Carolina.  We specialize in house washing services.  We can clean all types of siding including vinyl siding, metal siding, wood siding, stucco siding, and fiber-cement siding.  We offer both power washing and soft wash (low pressure) house washing services so we can safely clean all of the surfaces on the exterior of your home.
If I could give 10 stars, I would. Dave did an amazing job on our house, driveway, sidewalks, porch, chimney. He's professional, courteous, prompt, a great communicator. All the surfaces he washed look incredible.
Doris Parsell
August 8, 2023
Highly Recommend. I have used Dave Mac's Power Washing for years. Dave does a GREAT job. He is priced right and my house shines when he is done. He is great to work with too. If you need your house power washed, give Dave Mac a call. He can provide you a quick estimate too. You will not be disappointed.
Renee "Nae" Houghton
May 22, 2023
Dave Mac's Power Washing is the best company to use if you want your house to look like new. He is very professional, pays attention to not cause any damage, and the end results speak for itself. I won't use anyone else after using Dave.
patrick davis
May 15, 2023
Dave has been power washing our house for five years now, and there is nobody better! He does a fantastic job at a fair price. Great communication and always on time. Easiest pro to work with. Dave gets all the pollen out of all the nooks and crannies of our screen porch every spring. He also cleans our skylights and has done our whole house and driveway and sidewalks as needed. A really friendly guy providing excellent service!
Rebecca Baird
May 11, 2023
Dave Mac is definitely a 5 Star operation! I thought the side of my house was the color green! Dave deep cleaning showed me it was beige!! Classy, clean & hard working! His job is to make sure everything is correct down to the last drop! I will call him again! Call with confidence! You will not be disappointed! Thank you!
Melvin Leon Shelton
May 2, 2023
Dave Mac is the best. Thorough, careful timely, reasonable and all with a smile. Pleasure. He'll be doing our house from now on in.
Dave Mac did an outstanding job pressure washing our house. We will certainly be contacting him again when the time comes. We highly recommend him.
Brian Gasiorowski
April 13, 2023
Dave has now cleaned our house twice, and we will continue to use him. He is very responsive when inquiring, which is rare these days. Our house looks brand new when he is done, and we couldn't be happier.
Bailey Straughn
March 24, 2023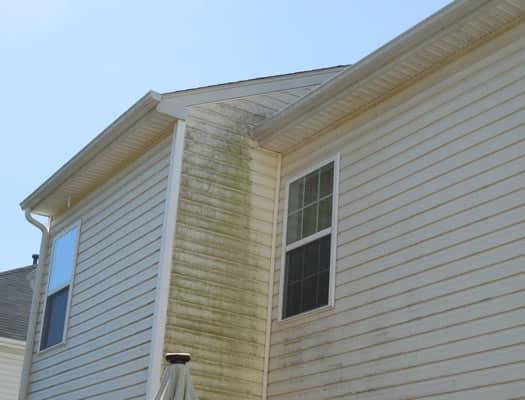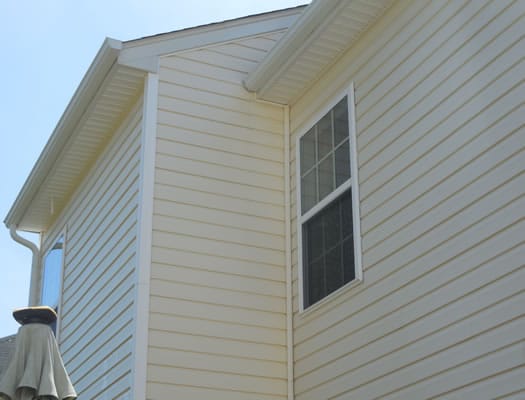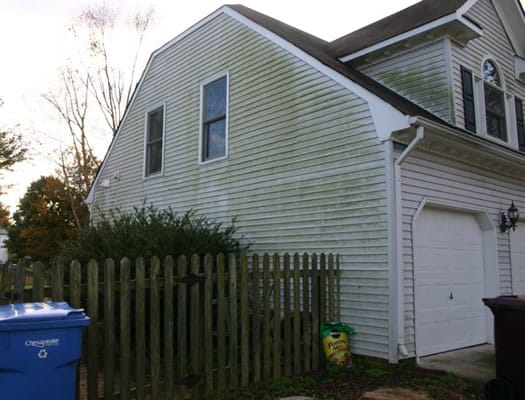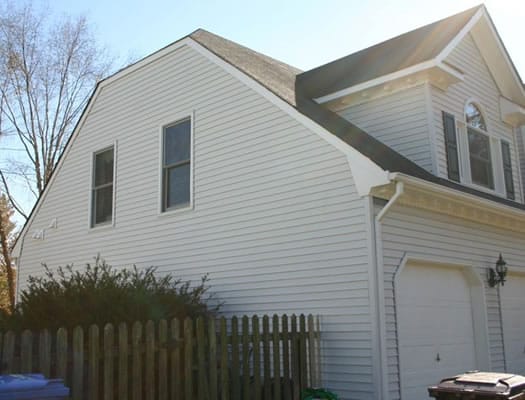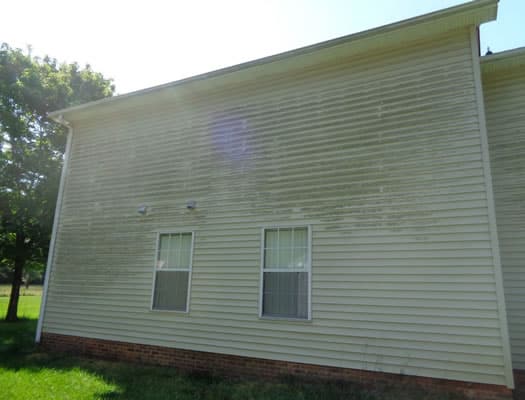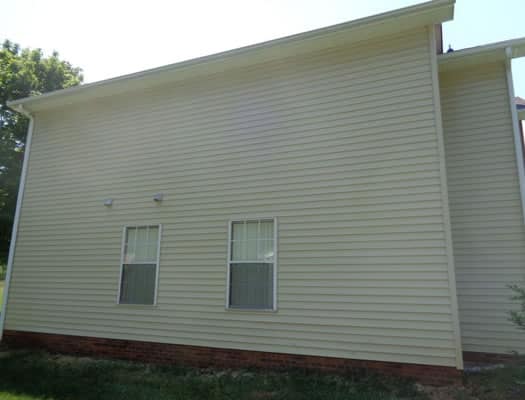 How Do We Wash Your House?
We use an exclusive superior cleaning system of "Low-Pressure" house washing. This system ensures that your home is cleaned, while not damaging any of your home's exterior finishing materials such as vinyl siding or stucco which can be easily destroyed with the high-pressure streams of water coming out of a commercial pressure washer.
Instead of intense pressure at the nozzle end, we instead rely on high quality, environmentally friendly detergents to do the heavy work for us.  We follow up this thorough "sudsing" of your house with a high volume but low pressure rinse.  The dirt and grime simply washes away, leaving a like new surface beneath.  Our soft washing system is safer and more effective than the traditional high pressure "blast-off-the-dirt" method.
We are your house washing specialist, specializing in Low-Pressure house washing.  Exceptionally dirty or neglected houses are not a problem, we take it as a challenge and we're ready to accept!
Exterior Surfaces We Can Clean With Our House Washing Service in Charlotte NC:
There are a variety of exterior surfaces we can clean on your home.  We can tailor your house wash to the specific type of siding materials and surfaces you have.  By using the right detergents and nozzles we're able to ensure you get the best clean possible.  These surfaces include:
Vinyl Siding
Fiber Cement Siding
Metal Siding
Stucco Siding
Wood Siding
Hardie Plank Siding
How Much Does House Washing Cost?
It's a good question, but not one we can offer a one-size fits all answer too.  The cost to wash your house can depend on a variety of factors.  The size of your home, how many stories your home is, whether we use a soft wash or power washing process, how dirty the home is, how easy it is too access, and what other services we are going to be doing as well.
Generally, single story homes are much easier to clean and don't require ladders or other safety equipment thus are going to cost less to wash than a two or three story home.
You can save money by bundling our power washing services together so when we're on-site it's a good idea to have us not only wash your house but also clean your driveway, sidewalks, patios, or decks as well.  This way you're maximizing your value and getting the best results.  We do offer package pricing if you want a total exterior clean.
What we can tell you with 100% certainty is that it's likely cheaper and more convenient to have us wash your home than to have you go out and buy or rent a pressure washer and do it yourself.  Renting a pressure washer for a day is going to cost at least $100.  This doesn't include the detergents, a ladder, or your time to finish the job.  If you go out and buy a pressure washer for several hundred dollars, you still need to store it for the rest of the year.
With Dave Mac's Power Washing our house washing service is "turn key".  We'll set a time to show up and on that scheduled day we'll wash your house for you.  No mess, no fuss.  No pressure washer to return to a rental shop, nothing for you to store, and you won't have to spend several hours of your time.  So for these reasons, it's probably cheaper to just hire us!
Wash Your Home Exterior Before You Sell
We work with real estate agents and property managers looking to sell or rent out houses.  Our house washing service is super fast, we can be in and out in a day.  The immediate improvement in curb appeal and appearance is instant and dramatic.
If you want your home to look it's best then let our team wash the exterior for you!
Why Hire Dave Mac's Power Washing Team For Your House Washing Project?
When you choose Dave Mac's Power Washing to complete your project you're partnering with a firm that has more than 27 years experience in the power and pressure washing industry.
We are licensed and insured and we also provide workers compensation  to our employees as any business should.  We are much more than a couple guys with a truck and a power washer.
We are the true power washing professionals in your area.  We maintain state-of-the-art professional grade equipment (this isn't stuff you could buy at the local home depot!).
100+ 5 Star Reviews, from Charlotte and surrounding areas
A+ Rating With The Better Business Bureau, Angie's List & The PWRA
You Deal Directly with the Owner
Environmentally Friendly Detergents & Soaps
If you are looking for a pressure washing service in Charlotte who can wash your home exterior then please call 704-321-0123 or fill out the contact form and we'll setup an appropriate time to complete your project.
House washing is the process of cleaning your home's exterior surfaces, including siding, bricks, stucco, and other materials, to remove dirt, grime, mold, mildew, and algae. In Charlotte, NC, the humid climate and frequent rain can contribute to the buildup of these contaminants, making regular house washing essential to maintain your home's curb appeal, extend the life of your exterior materials, and prevent damage caused by mold and mildew.
It's recommended to have your house washed at least once every 1-2 years in Charlotte, NC. However, the frequency may vary depending on factors such as your home's location, the type of siding, and the amount of shade or vegetation surrounding your property. Regularly inspect your home's exterior for signs of dirt, grime, or mold buildup, and schedule a house washing service when necessary.
There are two primary methods for house washing: pressure washing and soft washing. Pressure washing uses high-pressure water to blast away dirt and grime, while soft washing relies on low-pressure water combined with specialized cleaning solutions to remove contaminants gently. The best method for your Charlotte, NC home depends on the type of exterior materials and the extent of the buildup. At Dave Mac's Power Washing we can assess your home's needs and recommend the most appropriate method.
While it may be tempting to attempt house washing on your own, it's generally best to hire a professional service in Charlotte, NC. Inexperienced homeowners may unintentionally cause damage to their home's exterior by using incorrect techniques, high-pressure settings, or harsh chemicals.  It can also be dangerous working from ladders to reach the 2nd story of your home. Professional house washing services like Dave Mac's Power Washing have the knowledge, experience, and equipment to clean your home safely and effectively.
When looking for a house washing company in Charlotte, NC, consider factors such as experience, customer reviews, and insurance coverage. Look for a company with a proven track record of delivering high-quality results and excellent customer service. Additionally, ensure the company is fully insured to protect your property in case of accidents or damage.
At Dave Mac's Power Washing we've been in business for many years and have over 130 five star reviews and growing.
The duration of our house washing service in Charlotte, NC, depends on the size of your home, the extent of the buildup, and the cleaning method we've used. On average, a house washing service can take anywhere from 2 to 5 hours. We'll be able to provide you with an accurate time estimate based on your home's specific needs after we have completed a site visit.
The cost of house washing in Charlotte, NC, varies depending on factors such as the size of your home, the type of siding, and the cleaning method used. On average, you can expect to pay between $250 and $500 for a professional house washing service. Request a detailed quote from Dave Mac's Power Washing to understand the specific costs associated with washing the exterior of your home.