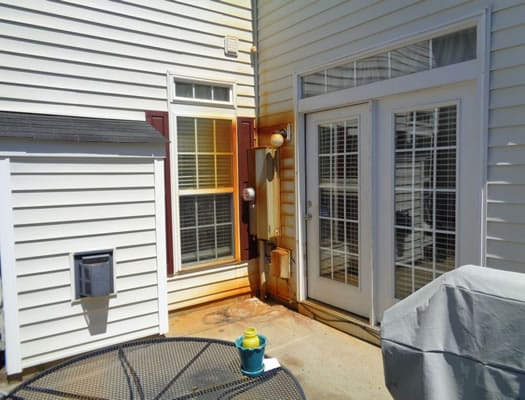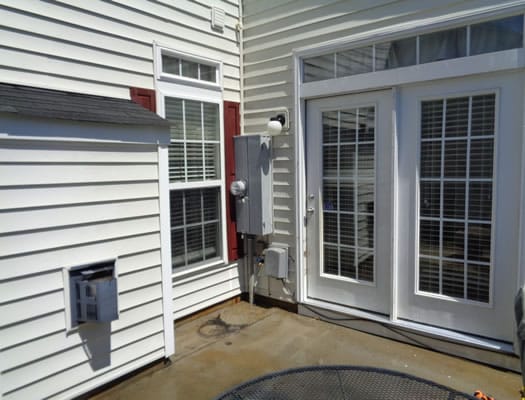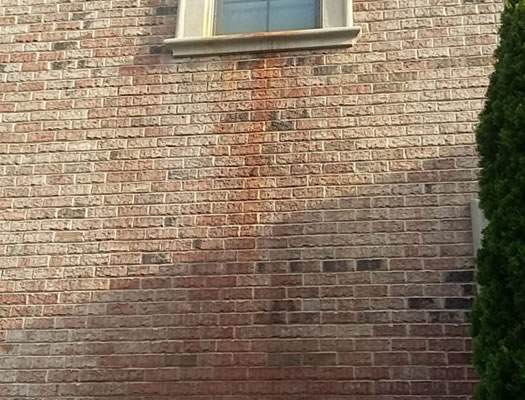 Do you have unsightly rust stains on the side of your home or building?  It's usually not the siding material beginning to rust, but more often than not it's from your air conditioning unit, poorly done flashing, ruptured plumbing pipes or by tradesman using inferior hardware such as cheap plated screws when installing items onto your home.  The result is the metal rusting and the rain and elements basically letting it run down the side of your home.
If you've ever left a can of cheap shaving cream on the shower shelf you probably came back to a rust stain less than a day later.  This same principal is at work with your home or siding when it comes in contact with a ferrous metal.
Where Do Rust Stains Commonly Form?
Rust stains on your Charlotte home can be a real eye sore.  They will show up in the places that everybody usually sees!
Some common areas we often see rust stains are below drip pans and hose bibs on outdoor hoses that might be leaking or have a broken pipe, we also commonly see problems with inferior hardware being installed on homes as we mentioned in the paragraph above.  If for example your gutters have been hung using plated screws as opposed to stainless steel screws you're going to have rust streaks on your siding eventually.
It's funny that we mentioned gutters because they are often the reason we're being called out to remove rust stains.  Gutters themselves can rust if they are made out of tin and merely coated with a few coats of paint and it's often on edges that have been cut or crimped and/or not painted correctly.  With the gutters being positioned in the perfect spot in most cases to stain the outer wall of a builder you can see the problem they pose if poorly installed.
How Can The Rust Stains Be Removed?
As a profressional power washing company we've adopted industry wide standards for rust removal and coupled it with our own expertise in power washing and applicable detergents.  Over the years we've streamlined our methods and we are able to remove most all rust stains from your home.  It really depends on how severe the staining is and how long you've let it go for.
This is a special service and requires a different process then house washing,  it is not part of your house wash, but can be added on as a additional service.
Dave Mac's Power Washing provide these pressure cleaning services in the Charlotte and surrounding area:
House Washing "Low-Pressure"
Pressure Cleaning
Washing Deck
Driveway & Sidewalk Cleaning
Multi – Family House Washing
Patio Cleaning
 Why Hire Dave Mac's Team For Your Pressure Cleaning Needs
27 Years of Experience
Licensed & Insured including Workers Compensation
Real Local References
Professional, State of the Art, Commercial Grade Equipment (i.e. not home depot or lowes!)
Member of Better Business Bureau, Angie's List & the PWRA
You Deal Directly with the Owner
Environmentally Friendly Detergents & Soaps
If you are looking for a pressure washing contractor in Charlotte then please call 704-321-0123 or click the button below.