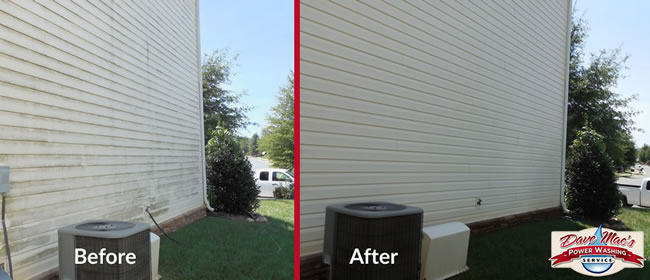 Expert Power Washing Services in Charlotte, NC
Pressure Washing or power washing as it's also often referred is an excellent way of removing built up and difficult to clean dirt, mold, algae and mildew which can build up to unsightly levels on the exterior of your home or building, sidewalks,driveways and more. Whether your home or building is wood sided, brick sided, vinyl sided or stucco a really good power washing will clean and restore its original beauty and remove any unsightly stains.
Contaminents That Make Your Home Dirty
Even if you outside of your home looks clean, if you run your hand along a section of siding you'll often feel and see that it's not as clean as you think.
Tree Pollens and Tree Sap
Bird Droppings
Algae and Mold Spores
Rust Stains
Soot From Chimneys
Soot From Heavy Traffic
We offer full-service exterior power washing services. Whether you're getting ready for that big party or the holidays, getting your home ready for sale, or just want to keep the exterior of your home squeaky clean, Hydro Pressure Washing can handle the job. We offer one-time cleaning, as well as regularly scheduled cleaning programs.
The work will be performed by a courteous, uniformed cleaning professional, and your satisfaction is guaranteed. Pressure washing is the application of high-pressure water spray. Some of the most popular services include the cleaning of concrete patios, sidewalks, decks, house siding, entrance ways, and driveways. In the hands of a qualified pressure washing individual, the results can be astonishing, and well worth the investment.
What You Should Know About Mold On Your Home
There are more than 100,000 species in the world so it's no mystery that mold can be found everywhere. Neither an animal or plant, molds are microscopic organisms that produce enzymes to digest organic matter and spores to reproduce. In nature, mold plays a key role in the decomposition of leaves, wood, and other plant debris.
Without mold, we would find ourselves wading neck-deep in dead plant matter. And we wouldn't have great foods and medicines, such as cheese and penicillin. However, problems arise when mold starts digesting organic materials we don't want them to, like the outside of your home or structure.  If this is happening to your home then give us a call today!
We Provide Power Washing Services in Charlotte, NC
If your home, building or hardscape needs to be cleaned by a professional then you need Dave Mac's Power Washing services.  Give us a call today or click the button below!