Exterior Chimney Cleaning & Power Washing in Charlotte NC
At Dave Mac's Power Washing, we believe that a clean exterior is integral to a beautiful home. One often-neglected area in exterior maintenance is the chimney, a key component not only for its functional importance but also for its aesthetic value. Our exterior chimney cleaning service is designed to restore your brick, stone, or block chimney to its like-new condition, boosting the overall appeal of your home.
Dave Mac's Power Washing is a top rated power washing company based out of Charlotte, North Carolina.  We specialize in pressure washing all kinds of exterior surfaces.  If you have an old brick or stone chimney that is covered in soot and grime, we can quickly and safely clean it for you, restoring it's surface appearance to a like new condition.
If I could give 10 stars, I would. Dave did an amazing job on our house, driveway, sidewalks, porch, chimney. He's professional, courteous, prompt, a great communicator. All the surfaces he washed look incredible.
Doris Parsell
August 8, 2023
Highly Recommend. I have used Dave Mac's Power Washing for years. Dave does a GREAT job. He is priced right and my house shines when he is done. He is great to work with too. If you need your house power washed, give Dave Mac a call. He can provide you a quick estimate too. You will not be disappointed.
Renee "Nae" Houghton
May 22, 2023
Dave Mac's Power Washing is the best company to use if you want your house to look like new. He is very professional, pays attention to not cause any damage, and the end results speak for itself. I won't use anyone else after using Dave.
patrick davis
May 15, 2023
Dave has been power washing our house for five years now, and there is nobody better! He does a fantastic job at a fair price. Great communication and always on time. Easiest pro to work with. Dave gets all the pollen out of all the nooks and crannies of our screen porch every spring. He also cleans our skylights and has done our whole house and driveway and sidewalks as needed. A really friendly guy providing excellent service!
Rebecca Baird
May 11, 2023
Dave Mac is definitely a 5 Star operation! I thought the side of my house was the color green! Dave deep cleaning showed me it was beige!! Classy, clean & hard working! His job is to make sure everything is correct down to the last drop! I will call him again! Call with confidence! You will not be disappointed! Thank you!
Melvin Leon Shelton
May 2, 2023
Dave Mac is the best. Thorough, careful timely, reasonable and all with a smile. Pleasure. He'll be doing our house from now on in.
Dave Mac did an outstanding job pressure washing our house. We will certainly be contacting him again when the time comes. We highly recommend him.
Brian Gasiorowski
April 13, 2023
Dave has now cleaned our house twice, and we will continue to use him. He is very responsive when inquiring, which is rare these days. Our house looks brand new when he is done, and we couldn't be happier.
Bailey Straughn
March 24, 2023
Why Choose Dave Mac's Power Washing for Your Exterior Chimney Cleaning Needs?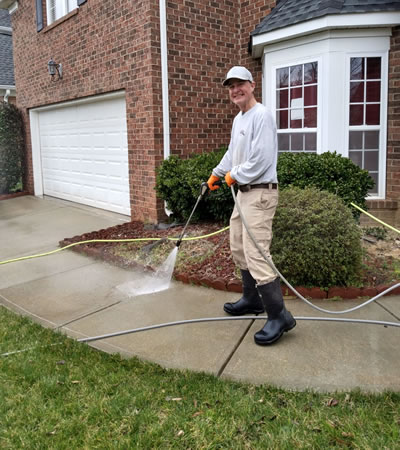 #1.  Experience: With over 20 years of experience in the industry, our team is well-versed in the techniques and methods required to safely clean your brick or stone chimney effectively and efficiently. We know how to tackle even the most stubborn stains and grime without causing damage to your chimney's exterior surface or the surrounding parts of your home and landscape.
#2.  Advanced Equipment: We utilize state-of-the-art pressure washing and soft washing equipment and high-quality, eco-friendly cleaning solutions specifically meant for cleaning brick and stone deliver exceptional results while protecting the environment at the same time.
#3.  Customized Solutions: We understand that every chimney surface is unique, and we tailor our exterior chimney cleaning approach to meet your specific needs and requirements. From varying levels of soot, dirt and grime, and different types of brick or stone, we can clean all types of exterior chimney surfaces.
#4.  Satisfaction Guarantee: At Dave Mac's Power Washing, customer satisfaction is our top priority. We stand behind our work, and if you're not completely satisfied with the results, we'll make it right.  With over 140 five star reviews on Google (and growing) you know that we care!
#5.  Competitive Pricing: We believe in providing high-quality exterior chimney cleaning services at affordable prices, making it easy for homeowners in Charlotte, NC, to keep their exterior chimney surfaces sparkling clean.
Exterior Chimney Cleaning Photos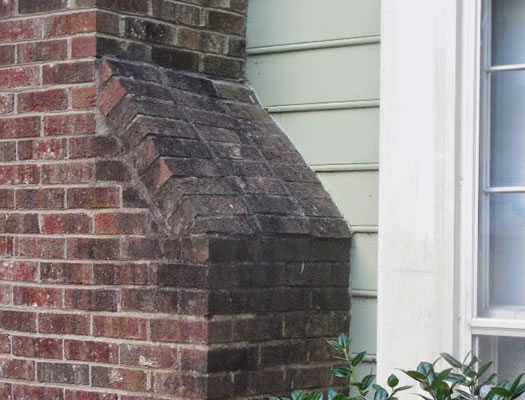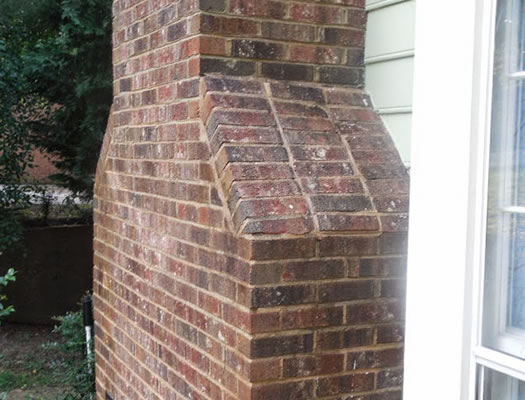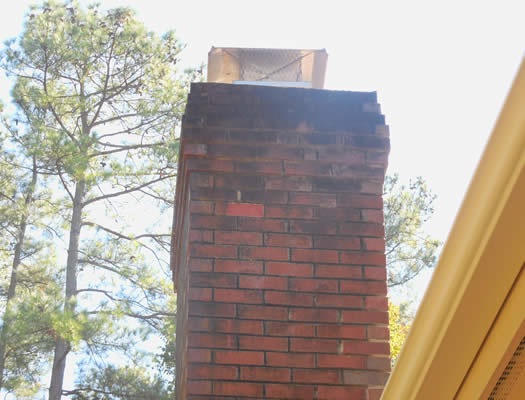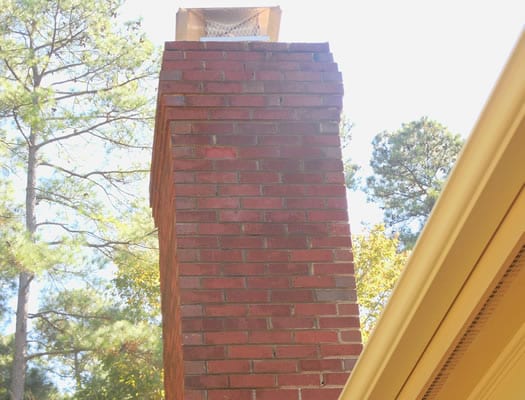 Frequently Asked Questions About Exterior Chimney Cleaning
We love answering questions from our customers.  If you have a question about cleaning the exterior your brick, block, or stone chimney, hopefully you'll find the answer here!  If not, let us know by giving us a call or filling out our estimate request form and we'll be sure to answer you quickly.
If done correctly, power washing should not damage your chimney. However, it can cause harm if the pressure is too high or if the chimney is in a state of disrepair. That's why it's important to have your chimney inspected before power washing, and why many homeowners choose to hire a professional like Dave Mac's Power Washing for this task.
Yes, power washing can effectively remove many types of stains, including soot, mold, and algae. However, for particularly stubborn stains, we may need to use different cleaning solutions in conjunction with power washing.  If you have a stain that you're unsure of, please reach out or send us photos and we can give you a better idea.
No, not all chimneys should be power washed. While power washing is generally safe for most masonry chimneys, it's not recommended for metal chimneys. If you're unsure about your chimney's material or its suitability for power washing, just give us a call!
Before power washing your chimney it should have a thorough inspection of the exterior to make sure the chimney is in good condition and doesn't have any cracks or loose bricks that could be further damaged by power washing.
The frequency of power washing depends on several factors such as the chimney's exposure to the elements, its material, and the degree of soot and grime buildup. Typically, once every few years should be enough for a chimney, but if you notice a lot of buildup or staining, you might want to do it more often.
Why Hire Dave Mac's Power Washing Team For Your Exterior Chimney Cleaning Project?
When you choose Dave Mac's Power Washing to complete your exterior chimney power washing project you're partnering with a firm that has more than 27 years experience in the power and pressure washing industry.
We are licensed and insured and we also provide workers compensation to our employees as any business should.  We are much more than a couple guys with a truck and a power washer.  We are the true power washing professionals in your area.  We maintain state-of-the-art professional grade equipment (this isn't stuff you could buy at the local home depot!).
140+ 5 Star Reviews, from Charlotte and surrounding areas
A+ Rating With The Better Business Bureau, Angie's List & The PWRA
You Deal Directly with the Owner
Environmentally Friendly Detergents & Soaps
If you are looking for a pressure washing service in Charlotte who can safely clean the exterior of your brick or block chimney then please call 704-321-0123 or fill out the contact form and we'll setup an appropriate time to complete your project.