Pressure Washing and Other Great Ways to Protect the Value of Your Home
You can do a lot of things as a homeowner to improve and protect the value of your home. Your home is likely to be your biggest investment, so protecting that investment is generally a top priority. We have put together several ways to improve and protect your home by keeping it maintained and clean.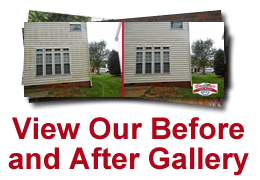 Home Maintenance: Maintenance is the number-one thing you can do to protect any investment. Your vehicle requires an oil change and maintenance every three months. Various areas of your home also require a certain amount of maintenance in order to keep everything running smoothly and protected.
Home Repairs: Repair the roof as needed, and make sure you take care of issues with the water heater, heat pump, plumbing, and electrical systems as quickly as possible.
Refresh the Paint: Painting breathes new life into the home. Aside from new siding or new windows, new paint gives your home a lovely facelift. Use colors that complement your siding and other elements of your home.
Home Improvements: Home additions and remodeling are very popular ways to improve your home and add value. A new kitchen, bathroom, or deck brings the best return on investment.
Landscaping: Trees, shrubbery, and flowers make a very nice addition to your home and dramatically increase curb appeal. Spend time and effort to make your landscaping look amazing or hire a professional landscaper.
Hardscaping: Statues, rock benches, stone patios, and other similar items add to the idea of landscaping. Use items that complement your home's architecture as well as the existing color scheme.
Clean the Guttering: The guttering system is designed to direct rain water runoff from the roof away from your siding and landscaping. Leaves, debris, and other small items can create blockages that prevent the guttering from properly protecting your home and property. Gutter cleaning is the key to keeping the water flowing as it should.
Power Wash the Siding: Your home's siding attracts pollen and all types of airborne grime, and is often home to mildew and algae. You should clean the siding at least once a year to prevent the growth of algae.
Power Wash the Sidewalk: The sidewalk takes a beating from everyday use and from the elements as well. Rain pushes dirt and other grime down into the porous surface of the concrete where it stays until it is properly cleaned away by pressure washing.
To properly clean the guttering, siding, and sidewalk, you need to find the best power washing company in Charlotte. The professional power washers at Dave Mac's Power Washing Service are licensed and insured to do business in the area. We always provide a top quality service at a reasonable price. Give us a call at 704-321-0123 if you're looking for a house washing, deck washing, driveway or sidewalk cleaning, or a power washing service in Charlotte.