What makes a truly world class Professional Power Washing service? 
Well there are many different reasons why all Power Washing services are not equal, one of the many reasons is equipment, pressure washing equipment can make all the difference in the world when it comes to cleaning homes. For example the best and biggest big box store pressure washer puts out 3.5 gallons Per minute of water. Now that may be good for washing a car, but a professional wants only the best equipment which can not be purchased at a big box store. The machine Dave Macs Power Washing uses puts out 10 Gallons Per  Minute.  And we Carry two machines on the rig just in case one brakes, as a matter of fact we carry two of almost everything on the rig. This type of equipment is a huge financial investment, but drives home the fact we are in it for the long haul. It also speed up the cleaning process to a whole other level most people never get to experience. You can see that every inch and nook of this rig has been thought out and planned with one goal in mind efficiency! For example electric hose reel, what that does is save energy from cranking the hose in all day, those manual reels can really suck the energy right out of you especially in these hot summer days.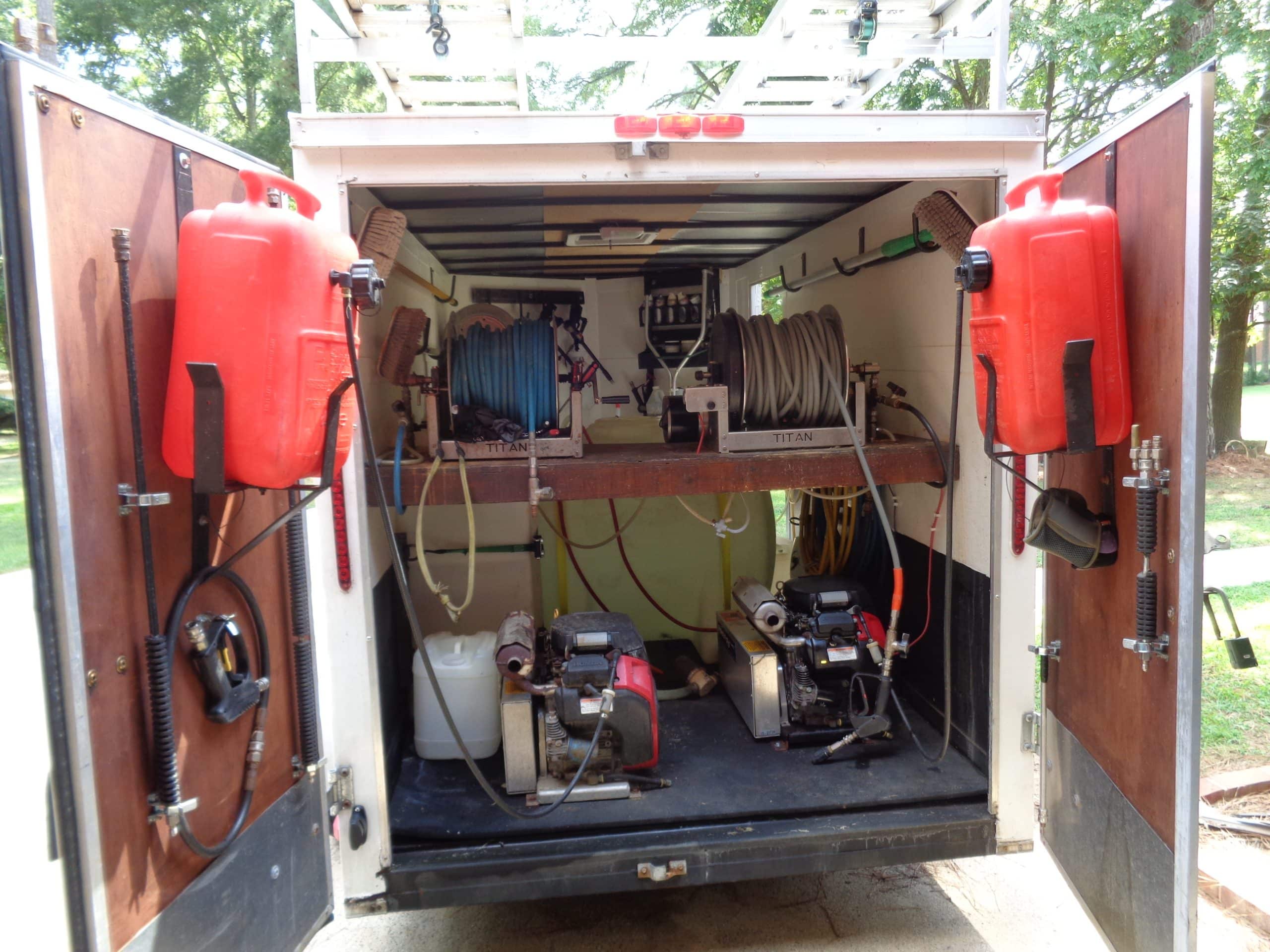 Pressure Washing Services that are committed to customer service.
What does Dave Macs Power Washing rig say about his customers? That he cares enough to invest in only the best equipment money can buy, so we can have the right tools to wash your home the best it can be washed. Just look at the extensive planning it took for the lay out on the door so everything can be reached with ease. instead of fumbling around in the trailer, wasting time.  you will notice right behind the machine on the right is a big tank strapped to the wall, that is a soap tank. That soap tank holds 55 gallons of soap, what that does is allow me to draw soap all day with out having to stop and mix it up again, efficiency. In the past using just five gallons buckets like the one seen in the photo, we would have to stop and mix it up many times through out the day waiting time, didn't take us long to figure out there had to be a better way.
Notice ladders on top of the trailer. We bring ladders to every job. Now we do not use them much, but if we need them, we have them. It blows my mind to here how many so called professional Pressure washing services do not have ladders on their rigs.
In the above picture you will notice we have several different cleaning solutions for various hard to remove stains. For example rust can not removed with regular house washing soap, we have a dedicated jug with the proper cleaning solution for rust removal. Just one of the many hard to get stains we have no issue at all removing. Notice the electric 12 volt guns attached to the jugs. These are just so much better then those pump up sprayers that brake down and do not spray worth a penny. Just one more example of efficiency, and speeding up the process with better results.
So for all your Pressure Washing needs contact Dave Macs Power Washing 704-321-0123 for a free Quote, or visit us on line for a free on line quote https://www.davemacspowerwashing.com/get-a-free-estimate/